The first Japanese port ever opened to the West after 250 years of national seclusion is now a showcase of 21st century urban design for the world. Since the opening of the port in 1859, Yokohama has been the entrance to Japan, welcoming people and products from all over the world, as well as the base of introducing overseas cultures to Japan. Post-World War II economic growth made Yokohama an important industrial zone that supported Japan's economy and industry and one of the most prosperous trade ports in the country. With great accessibility, located in the coastal center of the main island (Honshu) and around 30 km (18 miles) from Tokyo, Yokohama is the second largest city in Japan with 3.7 million habitants.
Yokohama attracts a great number of tourists both from Japan and overseas because of its beautiful port and historical sites that have accommodated cultures from around the world.
Accessibility
Yokohama is conveniently located near Japan's two major airports, Tokyo International Airport and Narita International Airport, where most major airlines have service. It is easily accessible from anywhere in the world and an easy place for attendees in your events to gather. There are 2,400 flights per week to and from 106 cities of 42 countries.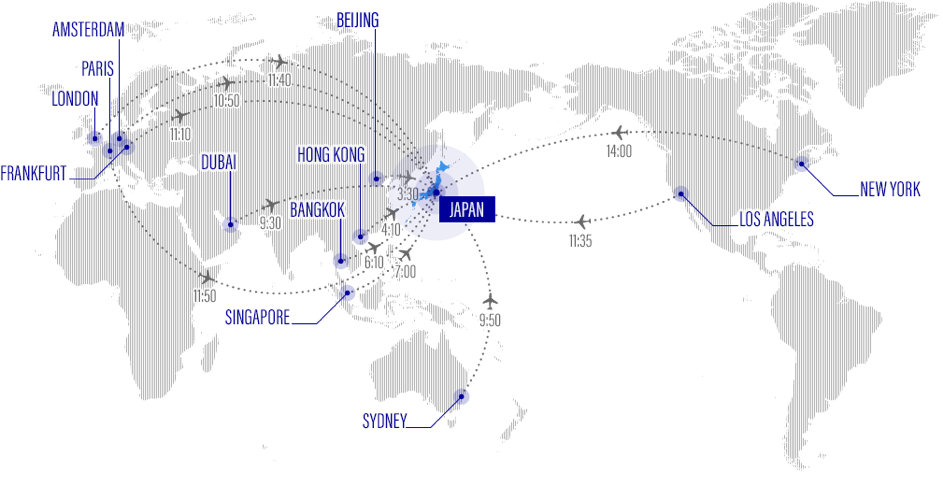 Travel times between the airports and PACIFICO are:
Yokohama Tokyo International Airport

22 km (13 miles), 30 min. by train, 40 min. by Limousine Bus

Narita International Airport

98 km (60 miles), 100 min. by train, 110 minutes by Limousine Bus
Travel times from Yokohama to other major cities
Tokyo

0:30 by train

Sapporo

1:30 by air

Kyoto

2:00 by Shinkansen bullet train

Hiroshima

3:40 by Shinkansen bullet train, 1:30 by air

Fukuoka

4:30 by Shinkansen bullet train, 2:00 by air