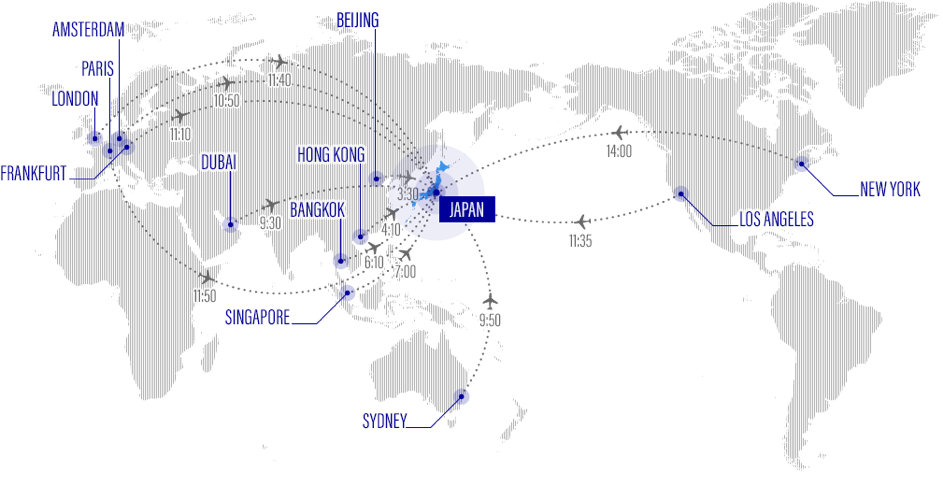 Accessibility
Yokohama is conveniently located near Japan's two major airports, Tokyo International Airport and Narita International Airport, where most major airlines have service. It is easily accessible from anywhere in the world and an easy place for attendees in your events to gather. There are 2,400 flights per week to and from 106 cities of 42 countries.
Getting around the city
The public transport system is one of the most efficient in the world and is clean and safe, combining an extensive train network, 13 underground subway lines, and a bus system. Visitors usually find the trains (JR) and subways the best way to get around, although the complexity of the underground network can be intimidating; rush hour, from 7.30am to 9am and 5pm to 7pm, should be avoided. Most stations have English signs. Because lines are owned by different companies, transfers between trains or subways usually require a transfer between different train systems, with different ticketing systems that can be confusing. Subway tickets are bought at vending machines. The bus system is more complicated for visitors as most destinations are written in Japanese only and bus drivers don't speak English. Taxis are convenient but never cheap, particularly during rush hour. Taxis can be hailed on the street, except in some central areas, where they only pick up from taxi ranks. Drivers speak little English. Driving a car in the city is not advised. Walking around the city is a delight and the best way to go sightseeing, when possible.
Drinking Water
Tap water is safe to drink anywhere in Japan. Mineral water including major imported brands can be easily obtained from supermarkets, convenience stores and other similar places.
Inoculations
No inoculation is required for entering Japan from anywhere around the world.
Emergency Info
In case of emergency when you are outside of the hotel, call hotel reception or Ambulance 119 - Police 110
Hospitals
Medical systems and facilities in Japan are well established so that you can expect to receive a high standard medical treatment, should you have a problem with your health during your stay.
Tipping
Tipping is not customary in Japan. In fact, it can be considered rude and insulting in many situations. Most Japanese restaurants require customers to pay for their meals at the front register, rather than leave money with the waiter or waitress. Tipping also isn't required for cab or bus rides and many hotel services. You will probably receive some of the best service in the world here, but this about people doing their job with pride rather than hoping for a tip.
However, while tipping is, for the most part, not customary in Japan, that's not to say there may not be a few exceptions on your trip. The first exception is nothing more than a service provider who accepts your tip, either in an effort to not offend you by refusing it or because they want some extra cash (just because tipping isn't customary doesn't mean it doesn't occur). Another tipping exception in Japan is when you've just taken a tour or received a special service. You may wish to tip on these occasions, but you certainly don't have to.
If you do tip a guide, don't just hand the service provider a few bills and be on your way. Be sure to put the tipping money inside of a decorative envelope and seal it before handing it to the recipient with a slight bow. Pulling money out of your wallet to use as a tip is generally frowned upon in Japan.
Visas
Japan has visa-exemption agreements with 68 countries. A citizen of any of these countries who intends to stay in Japan no longer than the period specified in the relevant agreement requires no visa.